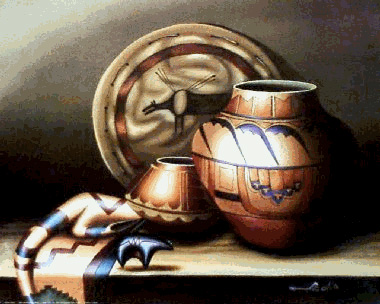 Welcome to the AZ Trading Post on-line store! Here we have a wide selection of southwestern and Native American Indian folk art and collectibles from many different Indian pueblos. We have Navajo, Hopi Sioux or Lakota Indian pottery, Navajo silver and turquoise jewelry and southwestern Indian baskets.
If you are looking for Mexican blankets to do Yoga we have a wide selection and many other American folk arts and crafts from Indian and non Indian artist, weavers and potters from around the southwest. All at a fair price! So if you're wanting to decorate your home or office with southwestern, Santa Fe or old west decor on a budget you can. Or maybe you just want to add to a southwest art collection or add to a high quality Native American arts & crafts collection you can do just that!
We think once you give the AZ Trading Post a try you'll be quite pleased with our vast selection of fine art and commitment to quality and customer service that you'll think of us first when shopping for Southwestern style home furnishings or art and collectables online.
If you don't see something you like at this time check back from time to time! Because we will be adding other southwestern home decor and art and collectibles in our on-line store soon!
Click on any of the thumbnails on the below to see a few of the items we sell.